Haggis Pinball presented on 5th July 2023 the next Title of the Classic Series.
It is the amazing Centaur which gets revisited and a lot of enhancement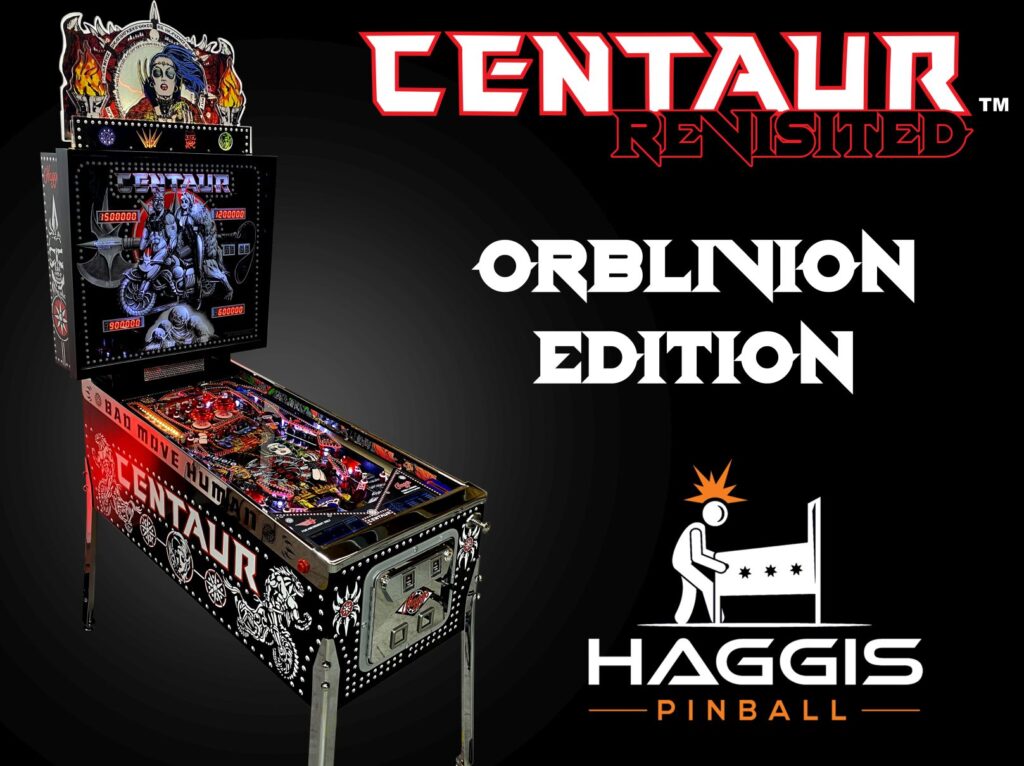 Here down the official information from Haggis Pinball
Dear Pinball Enthusiasts,
Haggis Pinball, in conjunction with Planetary Pinball Supply, Inc, proudly presents Centaur™ Revisited, an extraordinary homage to the iconic Bally machine that first took the pinball world by storm in 1981. With this sensational release, we invite you to embark on an exhilarating journey that blends the timeless charm of the original with cutting-edge enhancements.
Centaur™ Revisited stands as a testament to the unwavering dedication to the art of pinball, preserving its rich legacy while pushing the boundaries of innovation. Haggis Pinball have meticulously reimagined every aspect of this beloved classic, incorporating modern technology and captivating features that will ignite your passion for the game.
We are thrilled to offer two remarkable editions of Centaur™ Revisited:
Beast Edition (Limited to 250 units):
With only 250 units available, this edition promises an unparalleled gaming experience. Immerse yourself in the game's authentic heritage, enhanced with original artwork. It's a collector's dream come true, combining nostalgia and innovation in a truly remarkable machine.
Orblivion Edition (Limited to 50 units):
Limited to just 50 units, this edition offers plenty of exclusive enhancements. Witness the Underworld Queen interactive plasma topper, indulge in custom callouts that immerse you in the game, and enjoy mayhem with an additional multiball. The Orblivion Edition also features etched mirror side blades, inner cabinet art blades, black pinball balls, and a breathtaking airbrushed motorcycle helmet and leather jacket. Not to mention, you'll receive the Centaur™ Revisited soundtrack on vinyl. Most importantly, only the Orblivion Edition gives you the exclusive opportunity to choose colorised playfield and plastics art which truly makes this a rare collectable.
Both the Beast Edition and the Orblivion Edition of Centaur™ Revisited feature an extensive array of mind-blowing features that will elevate your pinball experience to unprecedented heights:
Original Game Code and 2.0 Revisited Code: Enjoy the best of both worlds as we seamlessly blend the original game code with the electrifying 2.0 Revisited code. Prepare for new rules, captivating callouts, immersive music, and sound effects that will leave you craving more.
Full RGB General Illumination, Inserts, and 7 Segment Score Displays: The art of Centaur™ comes alive in a symphony of vibrant lights with full RGB general illumination, inserts, and 7 segment score displays. Every moment becomes an extraordinary visual feast, amplifying your gaming pleasure.
Dual Apron LCD Screens: Stay informed and engaged with the game through the dual apron LCD screens. Keep track of your progress, explore exciting modes, and witness animations right at your area of focus.
5 Speaker Premium Audio System with Subwoofer: Prepare to be immersed in a sonic extravaganza! Centaur™ Revisited boasts a premium audio system featuring five speakers including a powerful subwoofer, delivering crystal-clear sound effects, callouts, and a musical score that will make your heart race.
Mirrored Chrome Cabinet and Playfield Elements: Reflecting light and surroundings, these mirrored surfaces add a depth to the visuals of Centaur Revisited and further enhance the premium lighting effects.
Interactive Topper: Elevate your gaming atmosphere with the interactive topper. Experience stunning light shows, captivating effects, and a touch of magic that intensifies your connection to the game. Both toppers are fully interactive and synchronised with both rule sets.
Under Cabinet Lighting: Immerse yourself in a radiant glow with under cabinet lighting. Illuminate your gaming space and enhance the ambiance, creating an unparalleled pinball experience.
Mirror Chrome Back Glass: Recreated from the original screens, this back glass not only looks incredibly sharp, Haggis Pinball added mirror chrome accents to enhance the overall appearance.
Furthermore, the Orblivion Edition offers an extraordinary range of enhancements:
Underworld Queen Interactive Plasma Topper: Witness the mesmerizing presence of the Underworld Queen with an interactive plasma topper. Let her captivating aura guide your gameplay and add a touch of enchantment to your pinball journey.
Custom Callouts: Immerse yourself in a truly personalized experience with custom callouts. Enjoy unique interactions that bring the game to life and make each moment feel tailor-made for you.
Additional Multiball: Unleash chaos with an additional multiball mode, intensifying the adrenaline rush and creating even more exhilarating pinball moments.
Etched Mirror Side Blades: Admire the intricate beauty of etched mirror side blades, showcasing designs that elevate the overall aesthetic appeal of the machine.
Inner Cabinet Art Blades: Immerse yourself in the captivating world of Centaur™ Revisited with inner cabinet art blades. Experience an artistic journey that extends beyond the playfield, enhancing the overall visual experience.
Centaur™ Revisited Soundtrack on Vinyl: Immerse yourself in the mesmerizing sounds of Centaur™ Revisited with a specially curated soundtrack on vinyl. Let the music from the game transport you to new realms of pinball excitement.
Airbrushed Motorcycle Helmet and Leather Jacket: Embark on your pinball adventures in style with an airbrushed motorcycle helmet and a genuine leather jacket. These exclusive additions will make you feel like a true pinball rockstar.
Most importantly, only the Orblivion Edition gives you the exclusive opportunity to choose colorised playfield and plastics art which truly makes this a rare collectable.
To complete your Centaur™ Revisited experience, both editions include a signed and numbered Centaur™ Revisited comic poster—a true collector's gem that celebrates the spirit of pinball.
Centaur™ Revisited is a testament to our passion for pinball and our commitment to delivering an unparalleled gaming experience. Join us on this extraordinary journey and become part of the Haggis Pinball family.
Haggis Pinball – Centaur Revisited
Haggis Pinball – Centaur Revisited – Talk Through